Four bedroom suites for 10 people
There are 1 four bedroom suites in Las Vegas and 4 Suites with possibility to fit 10 or more people in 3 or 4 rooms. The hotel that has the most 4 bedroom suites is ELARA BY HILTON GRAND VACATIONS. You can fit up to 10 guests at hotels with an average star rating of 4.5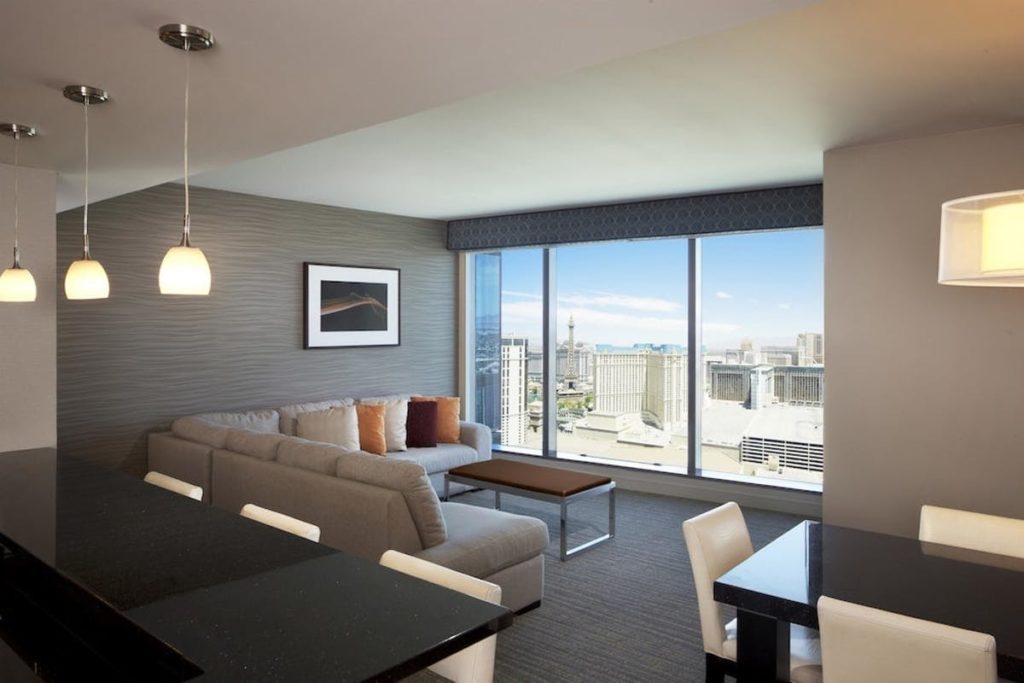 4 Bedroom 4 Kings Suite with Sofabed
ELARA BY HILTON GRAND VACATIONS
4 beds (2 326 sqft)
Starting At: $658
4.5-star luxury hotel, walk to Crystals at City Center
This hotel offers a casino, a restaurant and an outdoor pool. The offer includes free self-parking and free WiFi in public areas. Other amenities include a nightclub, a fitness center, and a bar / lounge. All 4 rooms have whirlpools, free WiFi, and kitchens. Standard features include free wired internet, dining areas, flat-screen TVs, and cable channels.
55th floor 4 bedroom penthouse Suite in Elara Hilton for 12 offers 4 air-conditioned accommodations with minibars and safes. All residential units have separate seating areas. The beds in the rooms have high quality bedding. In addition to flat-screen televisions with premium cable channels, the rooms also offer the following offers and / or technical devices: Pay TV. This 4.5-star hotel offers accommodations with kitchens, which include refrigerators, microwaves, separate dining areas, and coffee / tea makers. Bathrooms include a separate bath and shower with a jetted bath and complimentary toiletries.
Free internet access (WLAN and LAN) is available. Desks and free newspapers are available. All rooms also have free bottled water and irons / ironing boards. Housekeeping is available daily.
The hotel offers an outdoor pool and a fitness center.
Pyramid Premium Corner Two Queen Suite + Tower Premium Two Queen Room
Luxor Las Vegas
4 beds
Starting At: $558
Deluxe Room, 2 Queen Beds + Deluxe Room, 2 Queen Beds
Four Points by Sheraton Las Vegas East Flamingo
4 beds
Starting At: $358
Palazzo Luxury Two Queen Select View Suite + Prestige Luxury Two Queen Suite
The Palazzo at The Venetian
4 beds
Starting At: $658
Two Bedroom Penthouse Suite + Fountain View Two Queen
Bellagio
4 beds
Starting At: $758