Mirage Hospitality Suite With 2 Bedrooms
Are you looking for a luxurious and comfortable place to stay while in Las Vegas? Look no further than the Mirage Hospitality Suite! Our suite offers all the amenities and comforts of home, while providing you with an incredible view of the Las Vegas Strip. Enjoy a spacious living area, full kitchen, and private bedroom and bathroom. Plus, our suite comes complete with all the amenities you need to feel right at home, including cable TV, Wi-Fi, and a refrigerator stocked with water and soda. Book your stay today and experience the best of Las Vegas!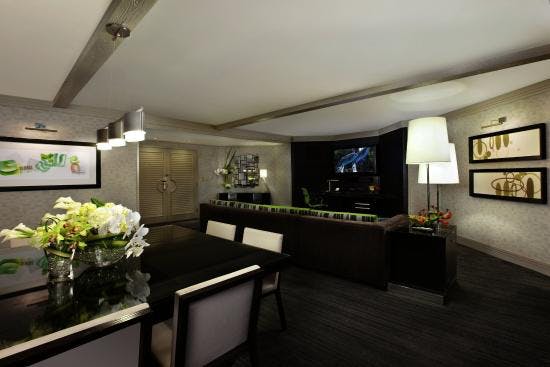 SUITE FEATURES
1714 sq. ft
1 King Bed and 2 Queen Beds
6
About Mirage Hospitality Suite
The Mirage Hospitality Suite is a perfect place for travelers who want to enjoy all the amenities of a luxurious hotel. This suite comes with two bedrooms and two full-size bathrooms, as well as access to the fitness center at The Mirage Spa. You'll also enjoy a Serta Perfect Sleeper® pillow top mattress, blackout shades and an oversized backlit vanity mirror. The suite also has a separate dining area, living room and king bed in the master bedroom. There's even a mini bar and Mirage plush robes and slippers.
FAQ
What is the Mirage Hospitality Suite?
The Mirage Hospitality Suite is a luxurious suite located in the Mirage Hotel and Casino in Las Vegas.
What are the suite's features?
The suite has two bedrooms, a living room, a dining area, and a kitchen.
What is the suite's capacity?
The suite can accommodate up to six guests.
What is the suite's price?
The price varies depending on the time of year, but typically starts at around $400 per night
What is the suite's cancellation policy?
The Mirage Hospitality Suite's cancellation policy is very strict and requires at least 72 hours notice for a full refund.