The Cosmopolitan of Las Vegas
The Cosmopolitan (officially: The Cosmopolitan of Las Vegas) is a casino and hotel complex located in Las Vegas, Nevada. The hotel was opened in December 2010 and is located south of Bellagio on the Strip.
The complex consists of two 61-storey towers, each with 2995 rooms and suites, as well as the plinth area. It houses a 9300 m² casino, 28,000 m² of restaurants, bars and retail space, a spa and fitness centre, several pools, conference facilities and a theatre with 1800 seats. Atypical for Las Vegas, most of the rooms have balconies and openable windows.
The project was designed by Ian Bruce Eichner. Construction began in October 2005, opening on December 15, 2010. The resort was built on a site that used to serve as a parking lot for the Jockey Club, a smaller apartment complex. Since this remained in place, it was agreed before construction that residents of the Jockey Club could use part of the new hotel garage as a substitute. The Cosmopolitan has an underground car park instead of a multi-storey car park next to The Palazzo as a second hotel.
Originally the hotel was to be operated as Grand Hyatt Las Vegas; the Deutsche Bank wanted to grant a loan to the real estate mogul Eichner. In January 2008, however, it became known that financing problems existed for the project. During the financial crisis, Eichner ran out of money, he could not pay an outstanding instalment, but the complex was not even half finished. While the project developers were looking for new financing possibilities, construction continued for the time being; however, no final agreement was reached. In order not to have to accept a complete loss, Deutsche Bank took over the project in September 2008 and completed it in cooperation with real estate developers of Related according to its own ideas and advice. The total costs are stated to be four billion US dollars. The casino was originally planned to be located on the second floor, but was finally moved to the ground floor, as is customary in Las Vegas. The complex was also to accommodate apartments, but they were replaced by additional hotel rooms.
Meanwhile, several hotel groups and operating companies from various Las Vegas resorts were interested in acquiring the property. In 2010, the hotel was put into operation in stages and became part of the Marriott International Autograph Collection, an association of independent hotels that have access to Marriott chain reservation and bonus programs. Ritz-Carlton also acts as a partner of the hotel. In 2014, Deutsche Bank sold the complex to the Blackstone Group. The purchase price is stated to be 1.7 billion US dollars. Since 2010, the hotel has been making continuous losses, which in 2013 amounted to around 100 million US dollars.
12 suites at the The Cosmopolitan of Las Vegas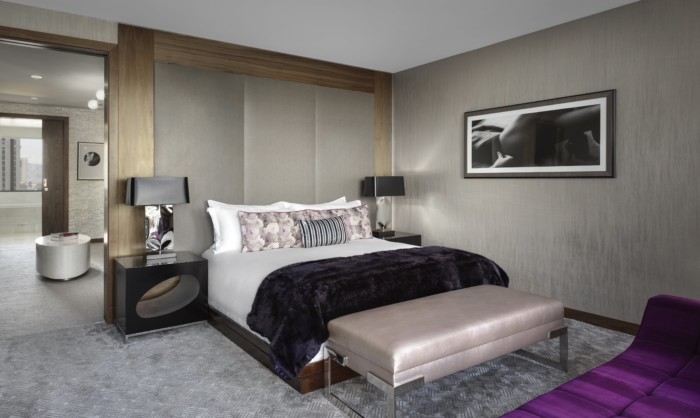 Bungalow1 bedroom, up to 3 guests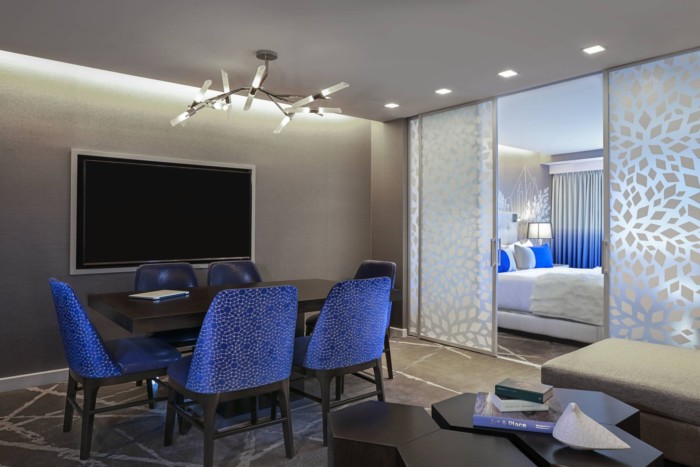 Executive Suite1 bedroom, up to 2 guests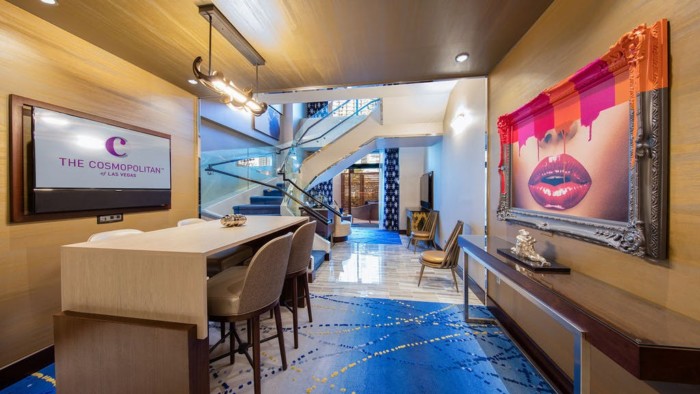 Lanai Suite (2 options)1 bedroom, up to 3 guests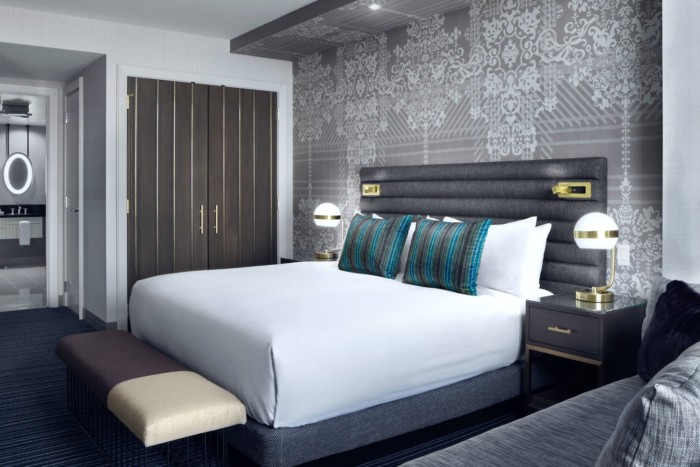 Terrace Suite | Fountain View1 bedroom, up to 3 guests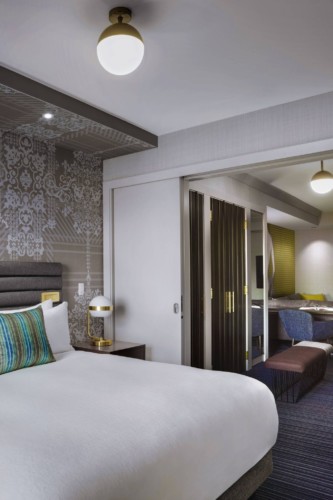 Terrace Suite + Terrace One Bedroom | Fountain View2 bedrooms, up to 6 guests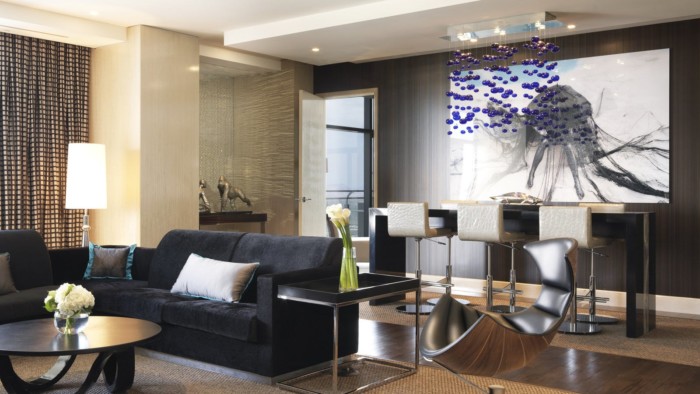 Three Bedroom Chelsea Penthouse3 bedrooms, up to 8 guests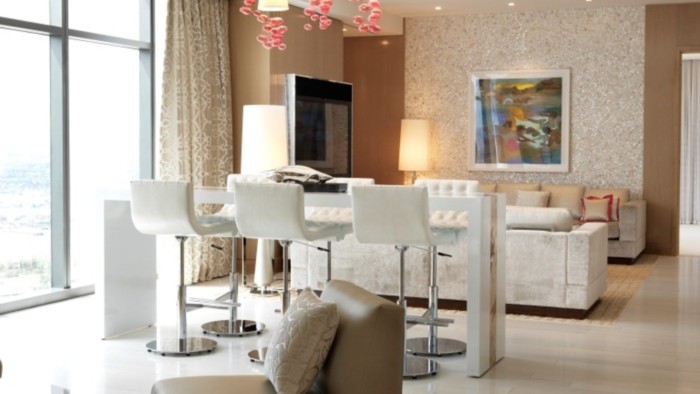 Two Bedroom Chelsea Penthouse2 bedrooms, up to 4 guests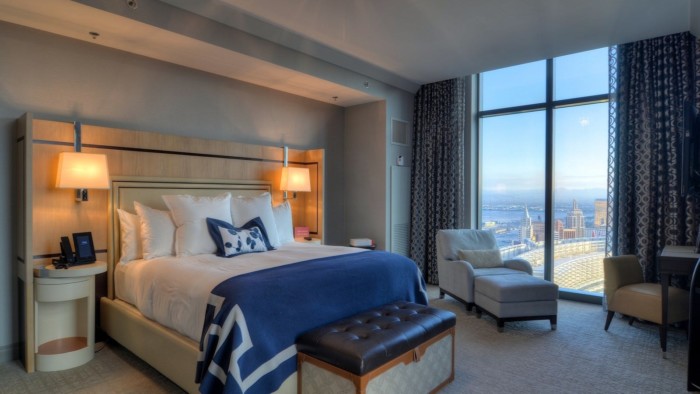 Two Bedroom City Suite2 bedrooms, up to 8 guests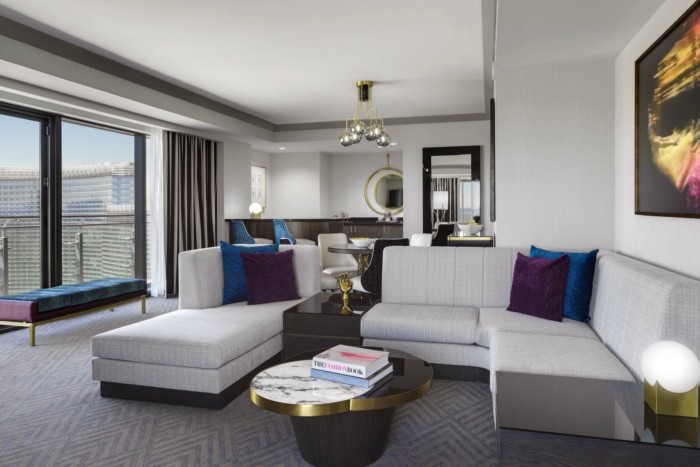 Wraparound Fountain View Terrace Suite1 bedroom, up to 3 guests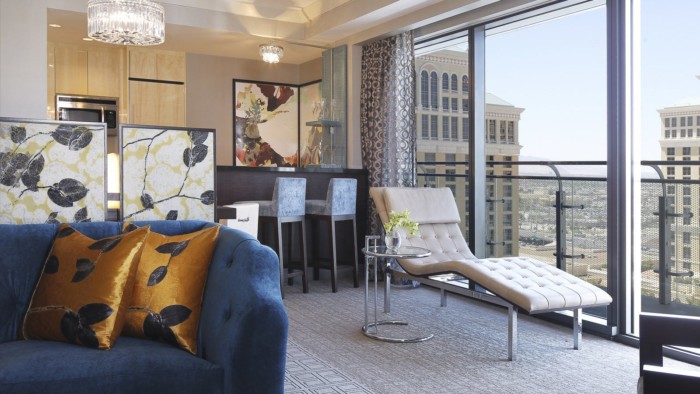 Wraparound Fountain View Terrace Suite + Terrace One Bedroom2 bedrooms, up to 6 guests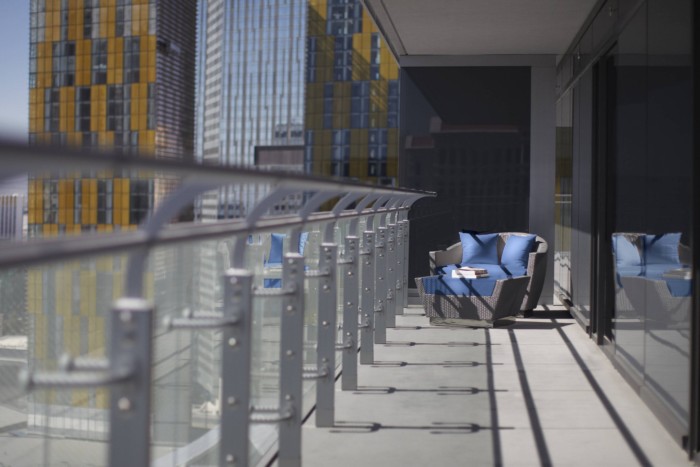 Wraparound Terrace Suite1 bedroom, up to 3 guests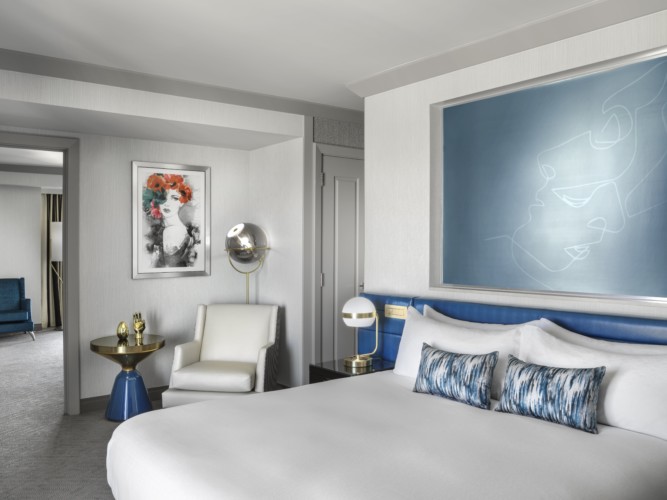 Wraparound Terrace Suite + Terrace One Bedroom2 bedrooms, up to 5 guests
Amenities at the The Cosmopolitan of Las Vegas
24-hour front desk
ATM/banking
Bar/lounge
Billiards or pool table
Business center
Casino
Coffee shop
Complimentary Wi-Fi
Concierge services
Conference center
Dry cleaning/laundry service
Elevator
Express check-in
Express check-out
Free self parking
Free valet parking
Full-service spa
Gift shops or newsstand
Hair salon
Health club
Hotel limo or towncar service
In-room accessibility
Limo or town car service available
Multi-lingual staff
Multilingual staff
Nightclub
Number of restaurants – 20
Personal concierge
Pets allowed
Poolside bar
Porter/bellhop
Safe deposit boxes at front desk
Sauna
Self parking (surcharge)
Shopping on site
Smoke-free property
Snack bar/deli
Spa services on site
Steam room
Tennis on site
Tours/ticket assistance
Turkish bath/Hammam
Valet parking (surcharge)
9 images of the The Cosmopolitan of Las Vegas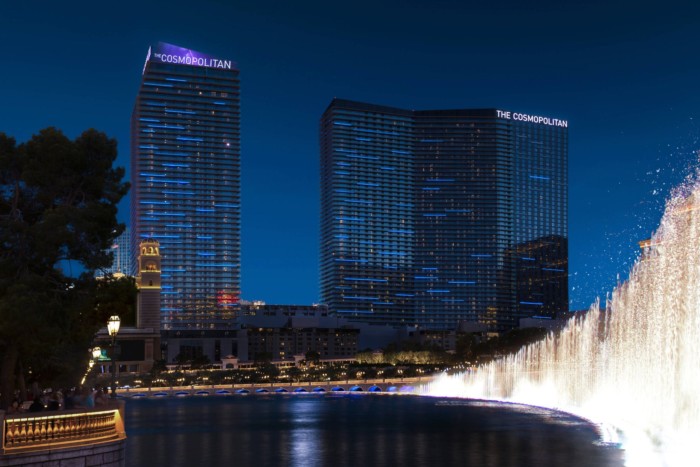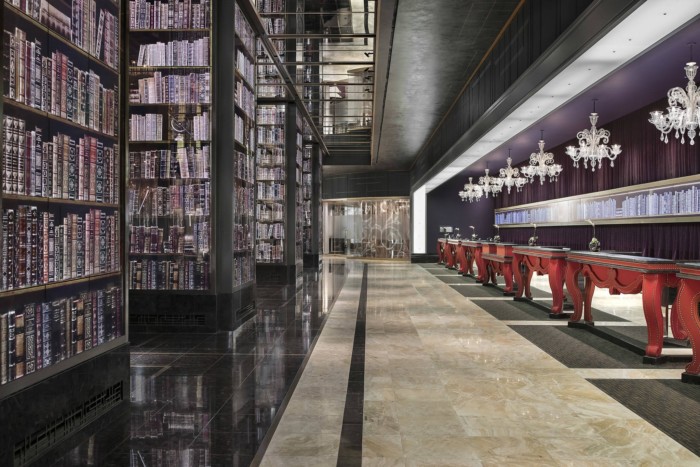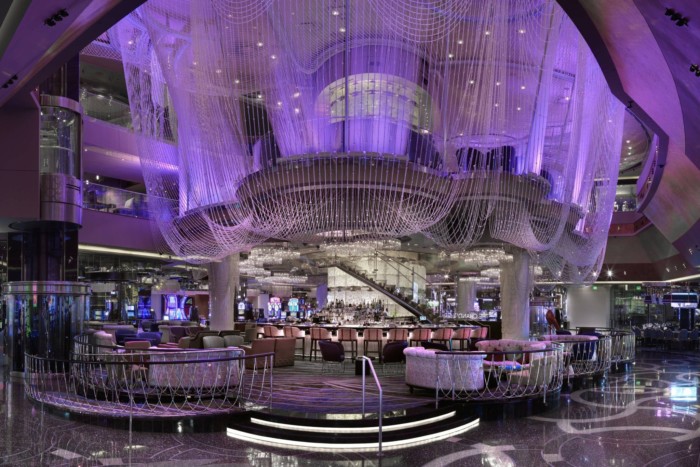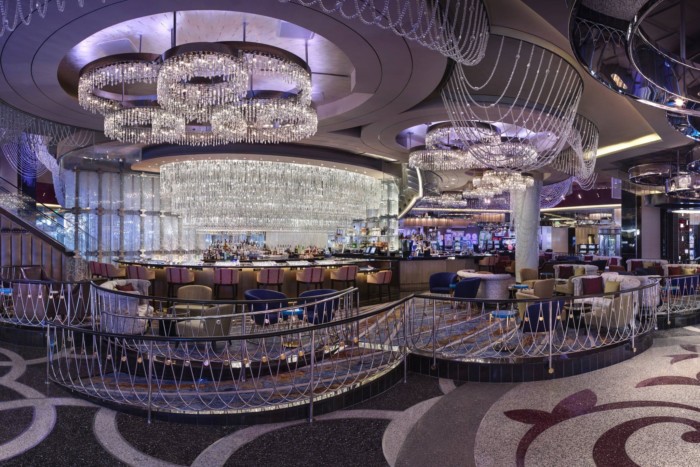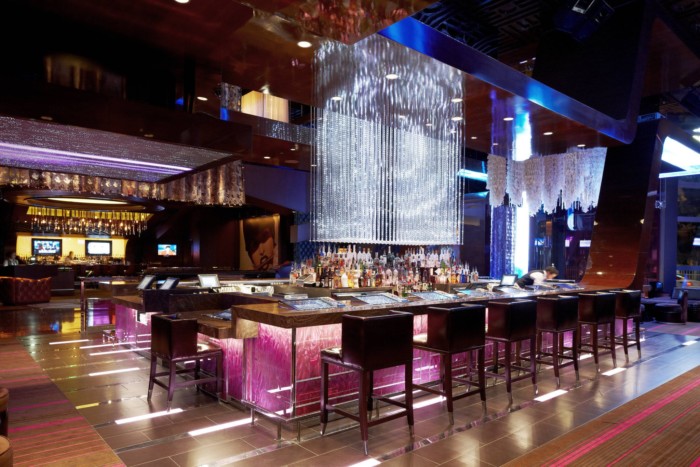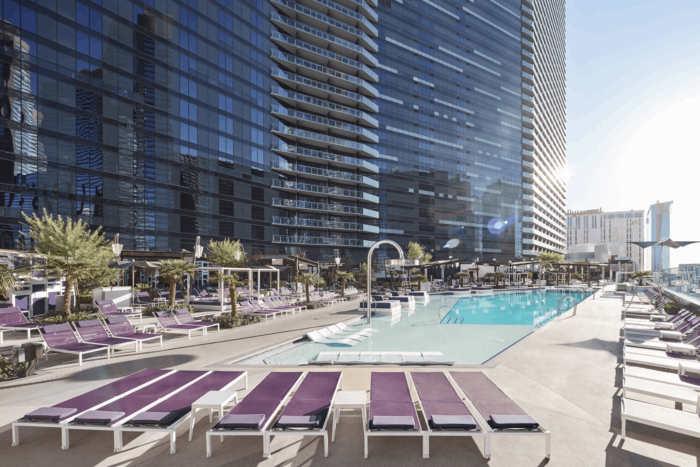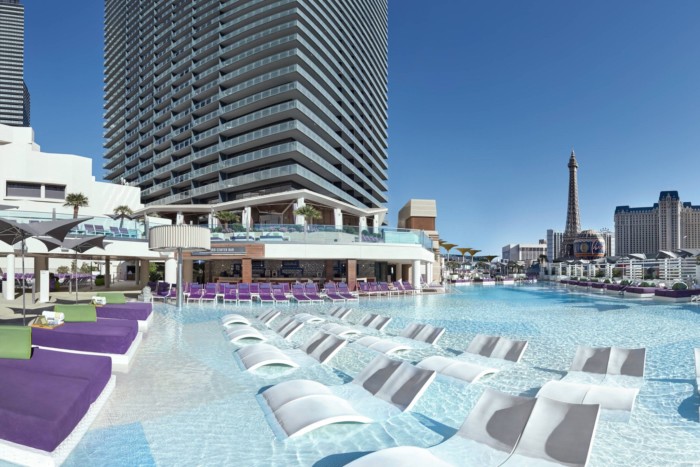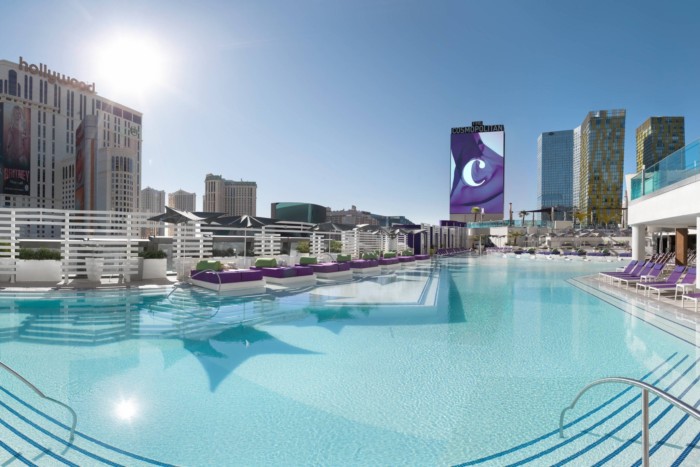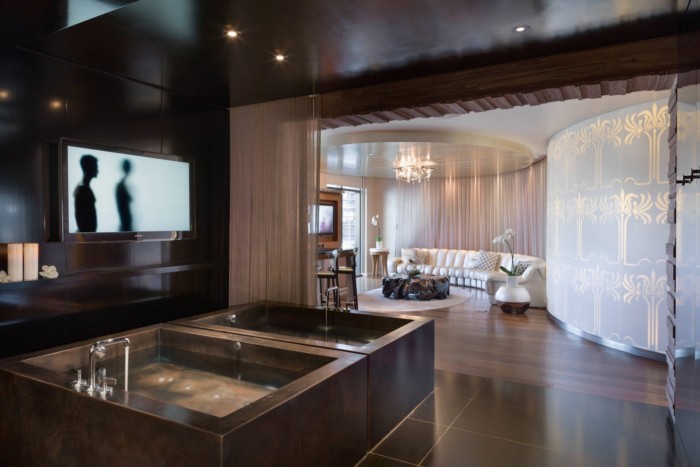 The Cosmopolitan of Las Vegas Location
3708 Las Vegas Blvd. S.
Las Vegas, NV 89109 US